ADM's New Range of Cost-Effective Pressure Switches
ADM stocks the TSA range of mechanical pressure switches.  
This new range of pressure switches is manufactured in the USA and has a proven track record for reliability and quality. 
There are two series in stock: 
TSA-APA:  For low pressure applications.  
0.3 – 2.1bar measuring range 

3.5 – 10bar measuring range 
TSA-BPA:  For high pressure applications.  
8.6 – 41bar measuring range 
35 – 172bar measuring range 

69 – 414bar measuring range 
Other measuring ranges are available via special order, with the lead time being approximately 4 weeks. 
The TSA pressure switches can be custom set to switch at a particular pressure. This is done either in the field or on the bench using a small Allen Key, not included. 
One key advantage of mechanical pressure switches is that they are a passive device, which means they do not require their own power source, unlike pressure transducers. 
All models of TSA pressure switches stocked by ADM have a SPDT potential free contact, which is rated at 250Vac / 5A. 
The pressure switch contacts are gold plated; this means that they can switch low currents. For example, a control input to a PLC of less than 20mA. PLCs do not detect the switching if a standard silver contact is used.  
Note: once a high current is passed through the switch, the gold plating burns off and it is no longer suitable to pass the low currents. 
The low-pressure transducers have a brass body, and the high-pressure models have a zinc nickel plated steel body.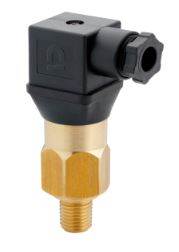 Low Pressure: TSA-APA Series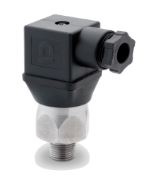 High Pressure: TSA-BPA
Electrical connection is by a DIN 43650 plug and the process connection is a ¼" BSP standard thread.  
The TSA series of pressure switches are the perfect cost-effective solution for most industrial hydraulic and pneumatic applications, such as heavy mobile machinery. 
For further information please contact ADM Instrument Engineering on 1300 236 467.