Harting Han Connectors for Robotics
Many industrial robots and machines that are built in Europe will have Harting connectors fitted to them.
ADM Instrument Engineering can help you determine the correct mating connector, so that you can get the robot or machinery up and running.  
We can also help electrical contractors by supplying replacement Harting connectors when they are conducting repairs on robots.  
In most cases the connectors come from the Harting Han range of modular industrial connectors, in either the 6B, 10B, 16B, or 24B sizes. 
In most cases, we have been able to offer a solution from stock.  
The HAN series allows you to combine power, signals, pneumatics, and even optical terminations into a single, rugged industrial connector. This simplifies the installation process as fewer connections need to be made. 
A Han connector is made up of the following components:  
Housing 
Female Contacts  
Female Inserts  
Male Inserts  
Male Contacts  
A Hood  
A Cable Clamp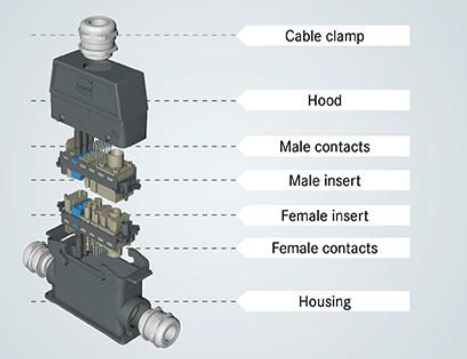 Our team will help you select the components you need to make up the right connector.  
Simply contact ADM Instrument Engineering by email or phone.  
IS THIS INFORMATION USEFUL?
If so, why not share it with your peers and colleagues. Simply click on the blue LinkedIn share icon below.