Buy Industrial Circular Connectors Online
ADM stocks a range of weatherproof and industrial circular connectors.
Our product range include connectors from Haritng and Power Source.
You can browse these products in our online store, by clicking on the following links:
Industrial Circular Connectors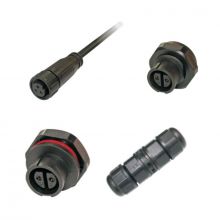 Power Source is highly cost effective and offers water resistance with ingress protection ratings IP67 and IP68. 
Our product range includes inline connectors, panel mount connector and cable joiner, including T shaped 3 way cable joiners.
Both male and female in-line variants are in stock in M8, M12, M16 and M20 sizes. We also carry a range of complimentary accessories. 
The Power Source connector range is perfect for many industrial applications in Australia.  
They are manufactured to a high standard and are easy to install. 
This makes them ideal for machine builders and OEM applications. In fact, they are suitable for anyone looking for a cost-effective water resistant and reliable connector solution.  
The Power Source connectors are also highly suitable for LED lighting applications, where a water-resistant connection is required.  
For further information please contact ADM.
IS THIS INFORMATION USEFUL?
If so, why not share it with your peers and colleagues. Simply click on the blue LinkedIn share icon below.