Inclinometer with Remote Display
If you are looking for an inclinometer with a remote display, then ADM has the perfect solution.
ADM offers a good range of inclinometers that are suitable for use in many different industrial angle and tilt sensing applications.
In fact, one our most popular inclinometers is the X-Axis Seika NGxI series.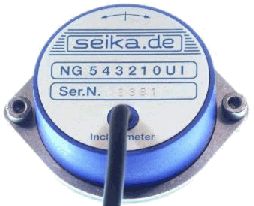 These are commonly used around in Australia in many industrial applications, where the inclinometer has to be able to withstand harsh environments, such as port loaders which generate a lot of dust and vibration.
Any inclinomters supplied by ADM can  can be paired up with the Eurotherm 32h8i/AL process indicator / alarm to give you a localised read out.
The 32h8i/AL features an onboard transmitter power supply as standard, so there is no need for an addtional power source to power the inclinometer. 
Its 1/8 DIN size (96mm x 48mm) horizontal display is compact enough to fit into any application, where space is limited, yet is still large enough for the operator to see when stood some meters away.
The Eurotherm 32h8i/AL is fully configurable via Eurotherm's iTools software package and you can set the alarm display to change from green to red under alarm conditions, giving the operator a clear indication that something may be wrong. This is particularly useful if you wish to use the inclinometer and disply in an 'anti-topple' application.  The scrolling text messages can also be customised to convey specific information, messages or warnings according to the output information being received from your inclinometers. 
If your equipment is used to perform different tasks, you may find the option of programming up to 5 'recipes' useful.
Each has 19 parameters. This saves having to reconfigure the controller each time you want to change task, or application. You can pre-program the controller, so that the operator only has to select the correct 'recipe' for the task that is to be carried out, saving a considerable amount of time.
Example Application
Let's say that you are looking for an inclinometer with remote display to measure the tilt on a crane.
The Seika NGxI series of vibration resistant inclinometers is perfect for this task.
This a very clever inclinometer with zero friction problems that is completely vibration proof, a critical factor on cranes, which of course experience some amount of vibration during operation.
The NG2, NG3 and NG4 are capacitive, liquid based inclinometers with integrated sensor electronics.  The liquid is self-levelling and self-damping, which eliminates the problems of pendulum type inclinometers.  The capacitive signal is converted into common 0-5 Volt or 4-20 mA outputs, which can be used with the Merlin indicator.
The current output model uses a simple 2 wire interface.  The Eurotherm 32h8i/AL supplies the required DC voltage power for to the inclinometer, and the output lead goes to 32h8i/AL's 4-20mA input. 
In this case, the inclinometer will output 12mA at centre zero and increases or decreases proportional to the angle of tilt. The Eurotherm 32h8i/AL will give a clear read out of the value from the inclinomter and display any alarm/error message that you may have programmed in.
ADM has more than 30 years' experience in providing tilt measurement solutions.
Call ADM on 1300 236 467 to speak to a member of our expert team about your own particular application.