Industrial Connector Types
As a distributor of Harting connectors, ADM Instrument Engineering stocks a considered range of industrial connectors. On top of that we have access to the full range of Harting industrial connectors.
Harting manufacture several different types of industrial connector and this blog post has been written to give you a good idea as to what Harting's capabilities are.
Harting HAN Industrial Connectors
Harting HAN connectors are very popular with designers, manufacturers, and installers of industrial equipment.
The HAN connectors have a modular design, which allows you to design your own connector that can carry both power and signals in one rugged connector.
There are range of different sizes and styles to choose from. So, there is bound to be a Harting HAN industrial connector solution suitable for your application, regardless of if you want to carry just power and a couple of signals, or if you need to carry multiple signal types and considerable power.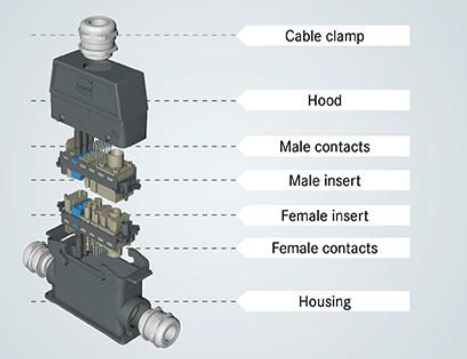 When it comes to power, HAN connectors can carry up to 200A. On top of that there are several data connection options available including D-Sub, USB, Coaxial, Quintax, RJ45, Firewire and more.
HAN connectors also allow you to incorporate optical and pneumatic terminations, into a single rectangular connector alongside power and signals.
The HAN ex series is EX rated for use in hazardous areas with an explosive atmosphere.
Industrial Circular Connectors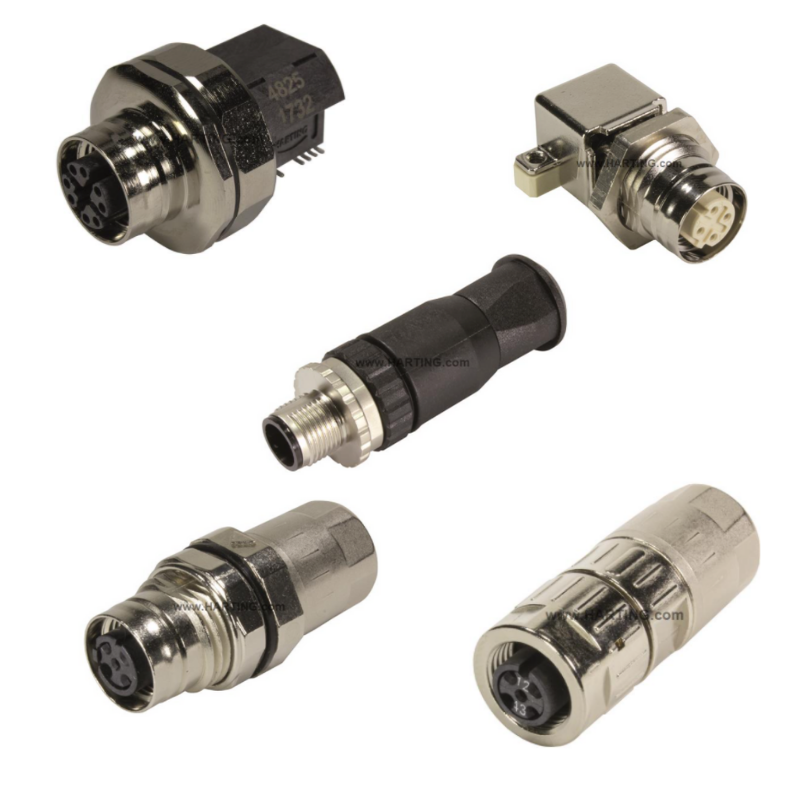 Industrial circular connectors are commonly used in industrial automation and process automation applications, as well as on mobile machinery and many other harsh environment applications.
Harting's range of industrial circular connectors include the commonly used M8, M12 and M23 sizes. Naturally, both male and female versions are available. The number of contacts you can choose from range from 3 to 19 and depends very much on the size of the connector you select.
If you are buying a connector to mate with a transducer or sensor, make sure you have the correct coding. Both A and D coding are available. The coding relates to the position of the 'peg' inside the connector that ensures you can only line up the pins one way.
Both push-pull and screw types are available. Both ensure that the connection is maintained if the cable is moved or knocked. The push-pull type is better for high vibration applications, as the screw thread cannot "unwind" itself.
Industrial circular connectors are available for both signals and power connections.
Industrial Ethernet Connectors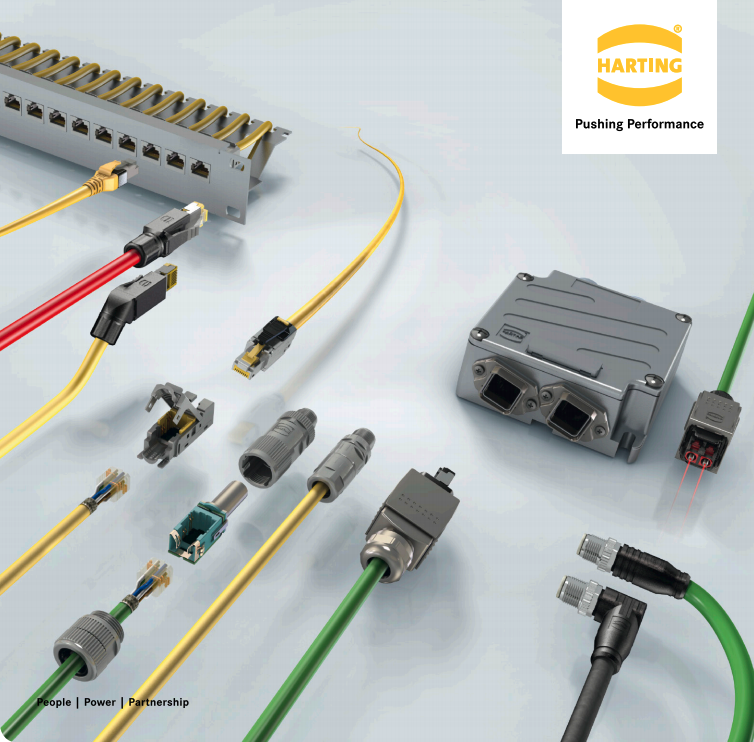 Ethernet is a commonly used communication protocol in industrial applications. Especially, as deeper integration of systems is sought. Remote monitoring and control reduces the cost associated with the need to visit remote locations to carry out routine tests and unnecessary maintenance.
Harting's har port series of panel mount connectors are available for Ethernet, USB and video & audio terminations.
You can also build an Ethernet connection into the HAN series modular connectors.
Industrial circular connectors can also carry Ethernet signals.
Industrial D-Sub Connectors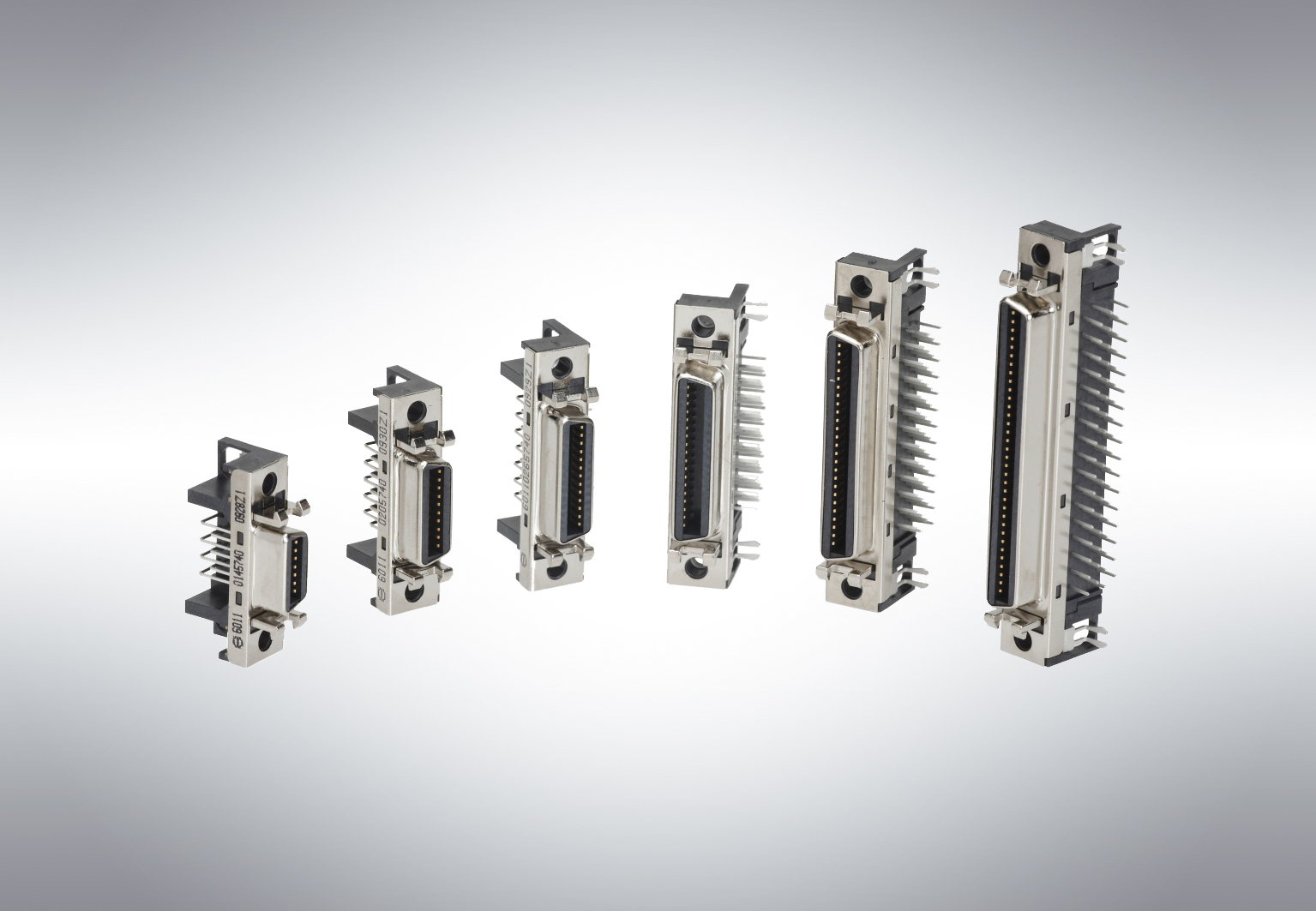 D-sub, or D-subminiature connectors are often used in industrial data communications applications.
They get their name from the D shaped housing surrounding the pins.
D-sub connectors are mainly used to carry datacoms signals and are used as network and communication ports.  
Types of Industrial Connectors in Stock
As we have already mentioned, ADM Instrument Engineering carries a select range of Harting Industrial connectors in stock.
We have warehouses in Melbourne, Sydney, Perth, and Brisbane.
If you regularly buy a Harting industrial connector and would like ADM to consider adding it to our stock range, then please give us a call on 1300 236 467.
Our expert team are also on hand to help you select a suitable industrial connector for your application.