Industrial Modular Connectors
ADM Instrument Engineering is a distributor for Harting, and we carry a considered range of the Harting HAN series of industrial modular connectors.  
The HAN series allows you to combine power, signals, pneumatics and even optical terminations into a single, rugged industrial connector.  
A HAN connector is made up of the following components: 
Housing
Female Contacts 
Female Inserts 
Male Inserts 
Male Contacts 
A Hood 
A Cable Clamp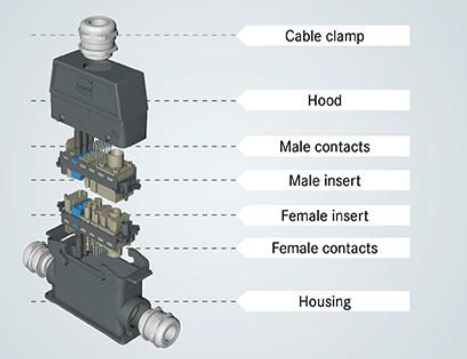 Industrial Modular Connector Hoods and Housings 
When selecting a hood and housing, you need to choose one that is going to be large enough to house all the contact modules that you will need.  
There are 10 different sizes to choose from. You could have as few as 4 contacts or as many as 108. 
Side and top entry hoods are available, so that the cable entering the connector can be conveniently and safely positioned within the application. Cable entry sizes range from M20, M25, M32 & M40. 
You can opt for a hood and housing made from lightweight high-performance plastic, the HAN-Yellock range, the legendary Harting HAN metal hood / housing, or the Han Ex range (for explosive & hazardous areas).  
Industrial Modular Connector Locking Systems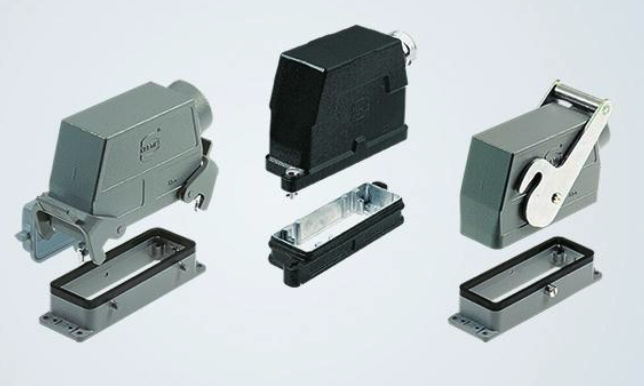 The locking system ensures that the connector halves are securely mated and cannot unintentionally be disconnected. 
Harting's HAN connector series offers you 5 different locking types. This includes single leaver, or double leaver locking, screw locking / toggle locking and HAN Easy-Lock.  
The key to selecting the most suitable locking system is getting the balance right between easy access and operability vs security of connection.  
Connection Technology Used in Industrial Modular Connectors 
When it comes to terminating the wires with the contacts, you can select either screw terminals, crimp connection, or cage clamp. 
A perfect crimp connection is gastight and therefore, corrosion free. It could be considered equivalent to a cold weld of the parts being connected. Factors in achieving a high-quality crimp connection include the design of the contact's crimping parts and the design of the crimping tool itself.  Harting is a leading manufacturer of high quality crimp terminals and crimping tools. 
The advantage with screw terminals is that no special tools are required to make the connection, just a simple screwdriver. The connection is reliable and remains fast. So, if corrosion is not a factor with your application then screw terminals could be a good option. The only factor to consider is excessive vibration, as in some circumstances this can cause screws to work loose.  
For signals you may wish to use cage clamp, or IDC terminations. The cage clamp method requires very little preparation of the wire and no special tools, leading to a low installed cost and a high degree of mechanical security. 
IDC is a commonly used termination technology and is a common method of terminating ribbon cables.  
Types of Module Available for HAN Industrial Modular Connectors 
Harting offer a wide range of connector modules for the HAN series industrial connectors. You can combine power, signal, fibre optics and pneumatics into one single rectangular connector.  
Watch the following video to help you get a better idea of the capability of the HAN Industrial Modular Connectors. 
Why Use Industrial Modular Connectors 
Industrial Modular Connectors allow you to save time and money.  
Disconnecting multiple connectors or terminations is time consuming. It may take you a little longer to wire an industrial modular connector during production. But if you have to disconnect multiple connectors and terminations to ship a product to site, and then reinstate all of the connections you would have saved considerable time by using a modular connector. 
Industrial modular connectors also allow you to save on real estate. One HAN rectangular connector can replace multiple circular connectors.  
The following video demonstrates the time savings offered by the HAN series industrial modular connectors: 
For further information, or assistance in selecting an industrial modular connector, please call ADM Instrument Engineering on 1300 236 467.