Linear Position Measurement and Monitoring Solutions
Over more than 30 years, ADM has established itself as a reliable supplier of precision test and measurement equipment and instrumentation for process and industrial automation applications.
One of our key areas of expertise is Linear Position Measurement and Monitoring Solutions.
You may be aware that we offer a considered range of Linear Position Transducers and Sensors. But many people don't know that ADM offers complete linear position measurement and monitoring solutions.
Different linear position measurement applications, require very different solutions. This is why we don't just offer one type, or brand of linear position transducer. We offer a considered range of linear position measurement devices, so that we can offer solutions to a broad range of linear position measurement applications.
Below is an overview of the range of linear position sensors that ADM offers.
The below tables details the key benefits of each of the different types of linear position sensor.
Type of Linear Position Sensor

Key Features / Benefits

Draw Wire Transducers

Flexible mounting options: Device can be mounted away from the action.

IP rated models available: Suitable for harsh environments.

Serviceable, can be repaired at ADM's workshops: Reduces cost of having to replace devices.
Multiple Electrical Output Options: Compatible with almost any PLC, or controller.

Wide range of measuring ranges: 0~50mm to 0~50m: Suitable for the smallest and largest linear measurement applications.

LVDT Transducers

No electrical contact across transducer position sensing element: High reliability, suitable for highly repetitive / high speed applications.

Voltage and Current analogue outputs available: Compatible with most common PLCs and controllers.

Unguided, captive or spring return version: Ensures compatibility with most applications.

Linear Potentiometer

Conductive Plastic: Reliable, clean electrical output, suitable for industrial automation.

Remarkably cost effective: No need to use an expensive device if high reliability is not required.

Suitable for linear position measurement applications up to 0~300mm in range.

Magnetostrictive Transducers

Non-contact design: High reliability.

DC Voltage output: Suitable for mobile equipment and vehicle applications.

Designed to fit inside hydraulic cylinder: Easy installation.
ADM also offer a range of Linear Position Displays, Indicators and Controllers, which means we can offer you the complete linear position measurement solution.
For example we recently provided a customer with a linear measurement solution that comprised of the UniMeasure JX-P510 draw wire linear position transducer, and the Eurotherm 32h8i/AL process controller.
UniMeasure JX-P510
The UniMeasure JX-P510 was selected, because it can be easily mounted onto the customer's machinery. The exit position of both the draw wire and the electrical cable can be determined by the customer.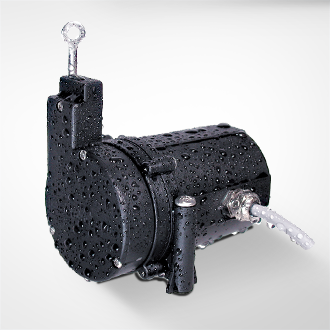 Extension wires are available, so that the draw wire transducer can be mounted in a convenient location, and not necessarily in line with the target object being measured. The draw wire itself can be fed around pulleys to ensure smooth operation, even when the transducer is not in line with the target object.
The UniMeasure draw wire transducer also offers a fairly cost effective solution, considering the measurement ranges available. The customer also liked the fact that it was serviceable.
The 0-10VDC output meant it was compatible with a wide range of different controllers, including the Eurotherm 32h8i/AL.
Eurotherm 32h8i/AL
The Eurotherm 32h8i/AL was the ideal choice for a combined display and controller, because the 1/8 DIN size horizontal display was perfect for this application. It was compact enough to fit in the customer's control panel, but still large enough to see when the operator is stood some meters away.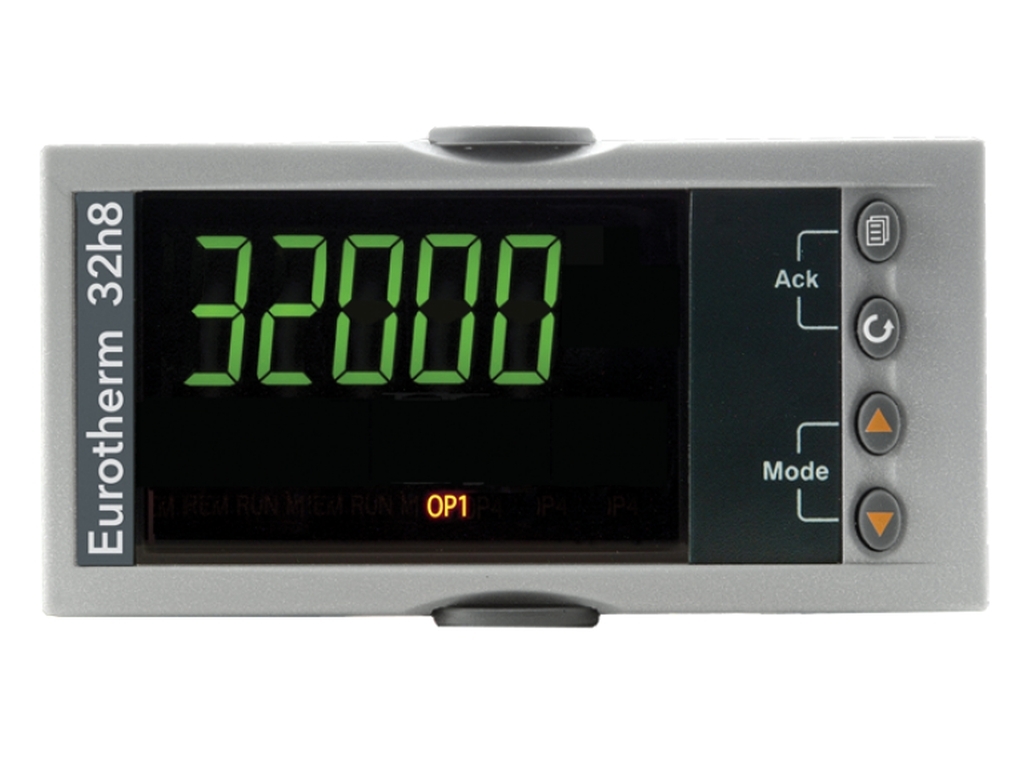 The Eurotherm 32h8i/AL is fully configurable with multiple DC inputs, including high level (10Vdc) voltage. Perfect for use with the UniMeasure JX-P510.
The customer liked the fact that the alarm display could be set to change from green to red under alarm conditions, giving the operator a clear indication that something may be wrong.
In fact the Eurotherm 32h8i/AL has a wide range of useful features, which make it a highly flexible and affordable display / controller.
You have the option of programming up to 5 'recipes', each with 19 parameters. This saves having to reconfigure the controller each time you want to change a production run, or process. You can pre-program the controller, so that the operator only has to select the correct 'recipe' for the task that is to be carried out, saving a considerable amount of time.
There are also 4 soft alarms, which are configurable as 'absolute high & low', or 'rate of change (rising or falling)'. These can be associated with the relay output actions and up to four conditions can be assigned to one output.
You can also customise the scrolling text messages to convey specific information, messages or warnings according to the output information being received from your devices.
The Eurotherm 32h8i series can be used with almost any industrial device in use today. As well as position sensing and monitoring applications, the 32h8i can also be used in other applications such as:
Temperature monitoring
Dewpoint and humidity measurement
Pressure measurement
There is also the option of customising the linearisation, so that the 32h8i can work with the outputs from non-standard devices.
If you have any questions on linear positon measurement solutions, then please contact ADM on 1300 236 467. A member of our expert team will gladly answer any questions that you may have.
If you would rather send us an E-mail, please use the 'CONTACT' link above.