Liquid Level Measurement in Industrial and Process Applications
Many industrial and process control applications involve the monitoring of the level of a liquid in a vessel, or storage tank. 
There are several methods that you could use to measure or monitor liquid level. Not all measurement methods are suitable for every application, each has its own pros and cons. 
Hydrostatic Liquid Level Measurement 
One of the most common methods of liquid measurement is Hydrostatic Level Measurement. It has a proven track record of being an accurate and reliable measurement method in many applications. 
A hydrostatic sensor is the device of choice when access is only available from the top entry of a vessel, making for an easy installation.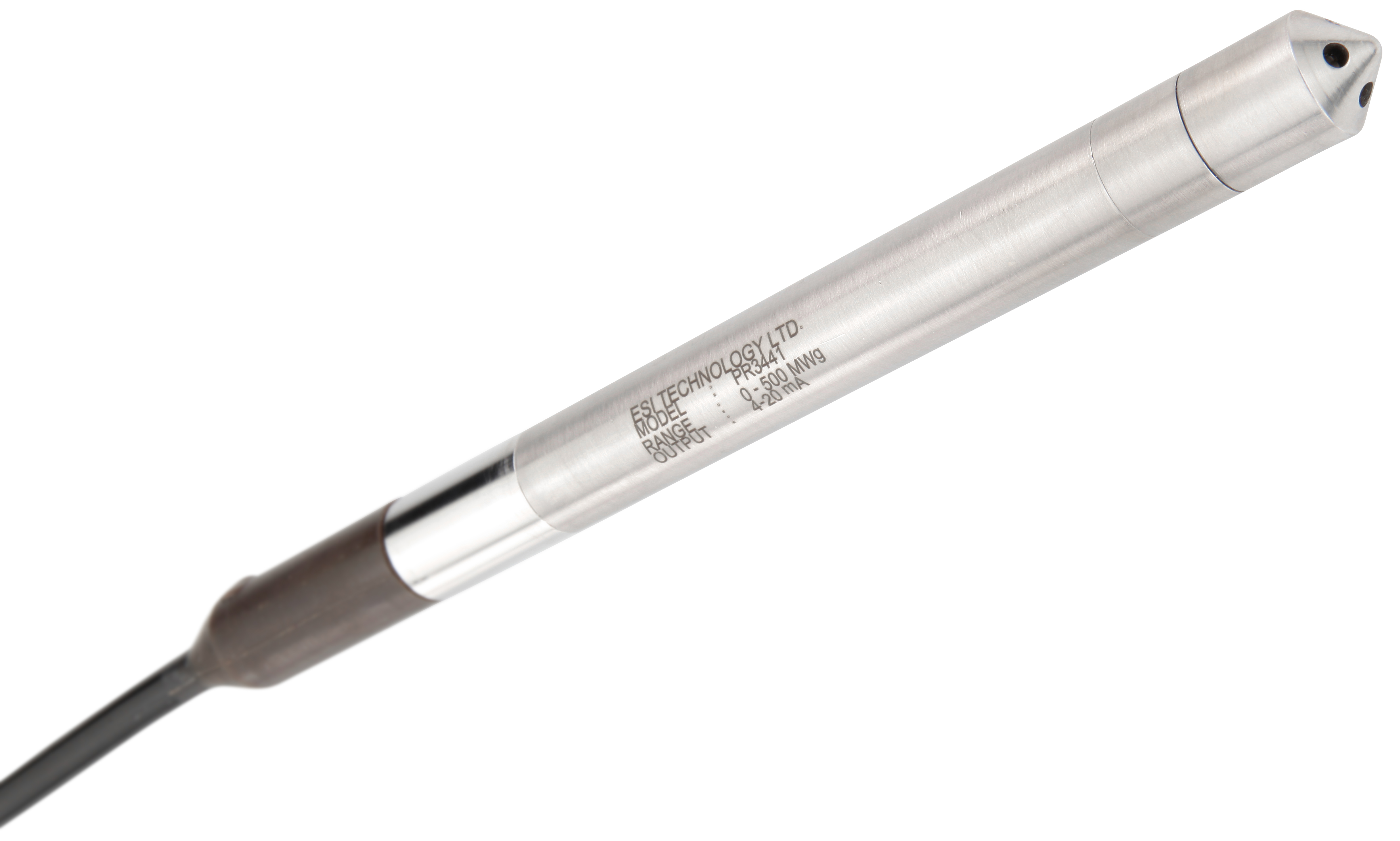 A standard pressure transducer with a threaded process connection could be used to measure pressure as a representation of level. This would be mounted outside at the bottom of the vessel (if a process fitting is available), or in the exiting pipework before any shut-off valve. 
The advantage of a hydrostatic level measurement sensor is that it can be installed without having to disturb or adapt the vessel. The sensor is easily retracted for cleaning and maintenance purposes and is a highly reliable and robust solution. 
Hydrostatic level sensors monitor the atmospheric pressure to which the liquid is being subjected. The sensor has a permanently fitted vented cable and is suspended in the liquid being monitored, with the sensor as close to the bottom of the tank or vessel as possible, as shown in the diagram below: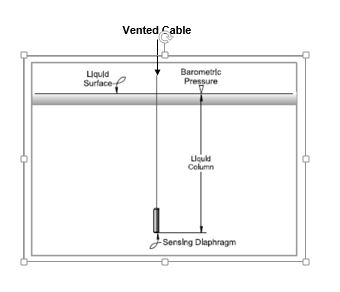 The liquid column above the pressure sensor creates a hydrostatic pressure which is a direct indicator for the liquid level. 
As the level of liquid drops, the hydrostatic pressure reduces. The sensor converts the pressure reading into an electrical output, which can be used by a PLC, controller, or display.  
The sensor needs to be calibrated according to the liquid being measured. For example, water, diesel, cooking oil, etc. all of which have a different specific gravity, meaning there would be a different pressure reading for each media at the same depth. 
Compensation for barometric pressure change is achieved via the vented cable. 
A vented cable is required because it is important that the sensor element is subjected to the same atmospheric pressure as that acting on the liquid. 
This is particularly important for the measurement of low levels of liquid, where changes in barometric pressure can significantly affect the true reading of level.  
Hazardous Areas 
If the liquid being measured is in a potentially explosive area, then hydrostatic level sensors are available that are IECEx certified.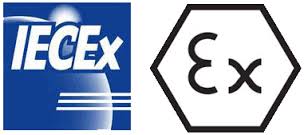 ADM Instrument Engineering has many years of experience of providing hydrostatic level measurement solutions and stocks ESI Hydrostatic level sensors. ESI is a British manufacturer of high quality, high precision sensors. 
Sensors can be supplied with up to 500m continuous lengths of cable. 
Other Liquid Level Measurement Technologies 
There are several other technologies available that also measure the level of liquids in storage or environmental situations. 
Ultrasonic Liquid Level Measurement 
Non-contact, sound reflecting technology, also for top access applications. It can be expensive and time consuming to install. It can be adversely affected by foam, temperature and moisture. It is more suited to sensing solid media types. Further challenges with the ultrasonic signals is the cone shape of the signal path which often means the signal may detect the vessel walls at lower levels giving false readings.   
Radar Level Measurement 
This is another non-contact, microwave reflecting technology similar to ultrasonic. It too can be expensive and time consuming to install. Is suitable for some specific applications such as molten steel. It is not affected by high temperature and moisture. The signal is more line of sight and better for deeper vessels. Noting there is safety aspect with radar level sensors as it is harmful for a person to be exposed to the microwave signal.  This technology is commonly used in collision avoidance applications to protect equipment. 
Liquid Level Measurement using Capacitance Proximity Sensors 
Capacitance sensors measure the conductivity of the medium present. It is suitable for liquids, solids and slurries at high temperatures. Is not affected by top vacuum pressure. Its use can be restricted in deep level measurement applications. It needs to be calibrated or tuned to media type, and the vessel or storage tank needs to be drained and modified with tank wells fitted. Capacitive level sensors are useful for measuring liquids that have a depositing nature (of a certain degree), as the sensitivity can be set to detect material at a location beyond the surface of the probe.  
Float Liquid Level Measurement 
Mechanical and magnetic versions exist. It is suitable for simple on/off switching applications. Its scope is somewhat restricted, especially with viscous media types that can adhere to the mechanical sensing devices and adversely affect their function. Mechanical devices are also more prone to failure than non-mechanical devices. 
Complete Liquid Level Measurement / Monitoring Solutions 
As well as stocking hydrostatic level sensors, ADM also stocks a range of process controllers and combined displays/alarms. This means we can offer you a complete liquid level monitoring solution. This applies whether your application is being integrated into a higher-level control system or is a standalone application.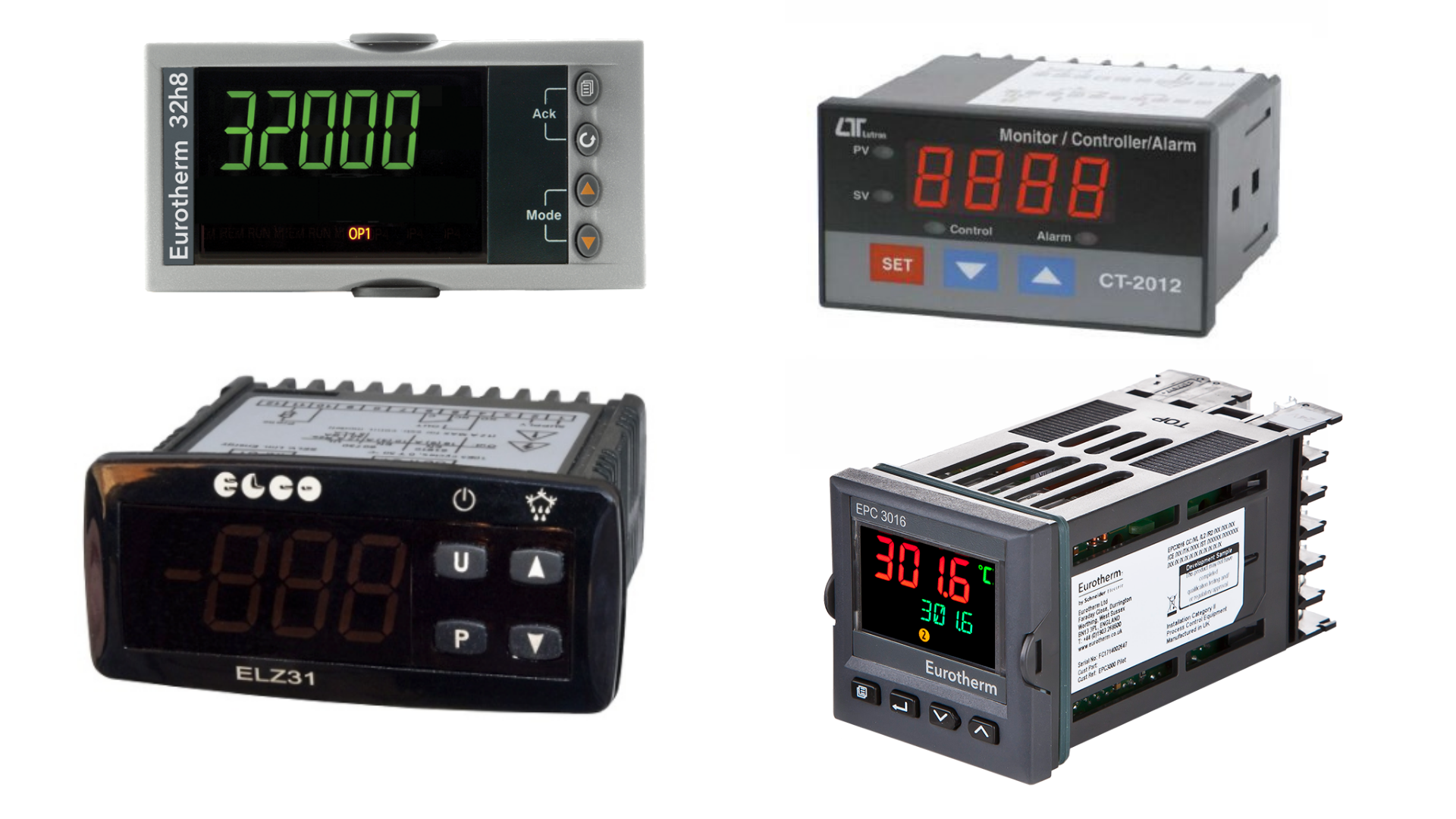 For assistance on selecting a suitable liquid level measurement, or monitoring solution please call ADM Instrument Engineering on 1300 236 467.