Lutron CC-421 - Best Low Cost Voltage & Current Calibrator
The Lutron CC-421 is a great low cost voltage and current meter and calibration tool for service or installation engineers, who need to check industrial sensors and transmitters.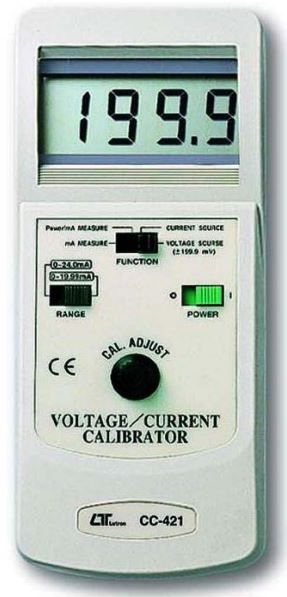 As one user told us; "It's a really useful meter that is fairly inexpensive".
So, if you accidentally drop it into a sewer tank, you won't weep. You'll hop online and order another one.
Featuring a clear 3 LCD display, the Lutron CC-421 voltage & current meter is a fairly straight forward and simple device to use.
It doesn't have some of the advanced features seen on more expensive devices, but then again if you are unlikely to use them, why pay an arm and leg for them?
You simply set the current manually with the turn pot on the front panel.
It's actually quicker to set a current on the CC-421 meter than with the multiple button pushes demanded by some more advanced instruments.
Heard of the engineer's choice? 'You can have good, fast and cheap, pick any two.'
Well, Lutron have done it; the CC-421 current & voltage meter / calibrator is a cunning blend of all of these three factors.
The Lutron CC-421 has 4 user selectable operating functions:
Current measurement in a loop, 4-20mA.
Loop power a sensor and measure its output, 4-20mA.
Current source, output 4-20mA.
DC mV source to max 200mV.
The display has two ranges:
0 - 19.99 mA (accuracy ±0.25 % F.S. + 1 d).
0 - 24.0 mA (accuracy ±0.5 % F.S. + 1 d).
Voltage measuring range is -199.9mV ~ +199.9mV (±0.25% F.S + 1 d)
Lutron Electronic Enterprise Co., Ltd. was established in 1976 and has been manufacturing Test & Measurement Instruments in Taiwan for more than 40 years.
Exporting to over 80 countries around the world, Lutron has established a global reputation for producing highly accurate and reliable test & measurement instrumentation at a low cost.
The Lutron CC-421 is available ex stock from ADM. Click on the following link to order yours today:
LUTRON CC-421 VOLTAGE/CURRENT CALIBRATOR