UniMeasure JX-P510 Series
Linear position transducer - 0-5V, 1-10V, ±5V, ±10V output - 50mm to 2000mm travel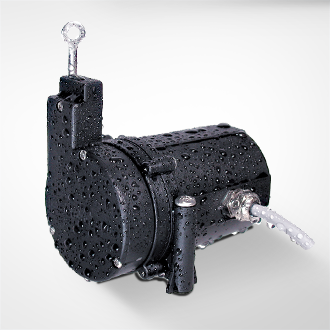 The JX-P510 series transducer offers a voltage output with wide adjustability to give a 0 to 5, 0 to 10, ±5 or ±10 VDC output. The device may be powered with any voltage in the range of 4.9 to 30 VDC. Zero and span adjustment potentiometers are easily accessible. With the zero-position set anywhere within the first 30% of total travel, the span may be adjusted to give a full 0 to 5 or 0 to 10 VDC output with the span set anywhere within the last 20% of travel. Alternatively, the zero position may be set anywhere between 40% and 60% of full travel to give an output of ±5 or ±10 VDC with the span set between 80% to 100% of the longest travel from the zero position. The chemical resistant thermoplastic case of the transducer provides IP-65 ingress protection for applications where exposure to washdown, rain, oil and other liquids may occur. An integral dust wiper prevents the entry of debris as the wire rope is retracted. The wire rope exit direction may be specified at time of order or may be user adjusted at time of installation. Various electrical connection options available.
Can't find what you need?
Call ADM on 1300 236 467
A member of our expert team will gladly help you find the right solution for your project or application.