Rotary Position Transducer with 0-5, 0-10, ±5, ±10V Output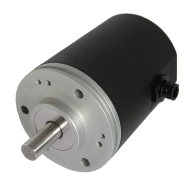 The UniMeasure RTX-P510 series rotary position transducer is adjustable, giving a 0 to 5, 0 to 10, ±5 or ±10 VDC output. The device may be powered with any voltage in the range of 4.9 to 30 VDC. With the zero-position set anywhere within the first 30% of total travel, the span may be adjusted to give a full 0 to 5 or 0 to 10 VDC output with the span set anywhere within the last 20% of travel. Alternatively, the zero position may be set anywhere between 40% and 60% of full travel to give an output of ±5 or ±10 VDC with the span set between 80% to 100% of the longest travel from the zero position. The RTX-P510 series transducers have a chemical resistant thermoplastic case, offering IP-65 ingress protection. Electrical output options available are a body mounted electrical connector, or bulkhead fitting with length of electrical cable. You can also select a side or end mounted electrical connection location.
Can't find what you need?
Call ADM on 1300 236 467
A member of our expert team will gladly help you find the right solution for your project or application.