Temperature Cooling Coil for Pressure Transducers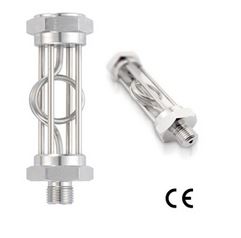 The ADHT Cooling Coil provides thermal isolation for a pressure transducer from hot liquid or gas media.
It is an ideal solution for applications where the media temperature exceeds the rating of a
pressure transducer or transmitter.
The Cooling Coil adapter will reduce the temperature of the media approximately one fifth before it makes contact with the transducer sensing element.
The ADHT can be used with media up to 200°C and with pressure ranges up to
400bar max.
Constructed entirely from 316L stainless steel, it offers a simple yet effective
solution to high temperature applications when used with ESI pressure sensors.
Can't find what you need?
Call ADM on 1300 236 467
A member of our expert team will gladly help you find the right solution for your project or application.