Hand Held Vacuum Meter with SD Card Data Logger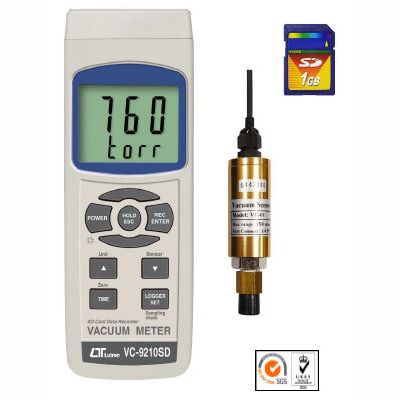 The Lutron VC-9200 takes absolute vacuum and pressure measurements and has a wide measurement range of 1 to 1500mbar.
This hand held vacuum meter features a built-in SD card data logger. Simply remove the SD card and insert it into your laptop, or PC. Data can then be analysed using a spreadsheet. No additional software is required. SD card capacity: 1GB to 16GB.
The seaparate probe (supplied) allows for easy operation and is suitable for use with air, oil, gas and liquids.
Readings can be displayed in 8 different measurement units including psi and mbar.
Overload protection up to 2000 mbar MAX.
Records maximum and minimum readings and there is a data hold button to freeze the last reading on the display, until you are ready to move on.
Direst transfer of data to your computer is possible with the optional USB interface cable and data logging software.
Can't find what you need?
Call ADM on 1300 236 467
A member of our expert team will gladly help you find the right solution for your project or application.