Mechanical Vacuum Switches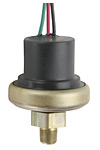 This compact vacuum switch is ideal for low vacuum designs. It is field adjustable in 2 ranges from 5 to 15 in" Hg. MAX over pressure is 250psi (20 Bar) The 5 amp snap action micro-switch is rated for more than 1,000,000 cycles giving you long life when operated at the recommended conditions. Optional electrical terminations include DIN 43650A, or flying leads. The IP 65 enclosure offers resistance to dust and moisture ingress. The standard elastomer diaphragm is Nitrile. Optional Viton and EPR diaphragms are available.
Can't find what you need?
Call ADM on 1300 236 467
A member of our expert team will gladly help you find the right solution for your project or application.