Product Review - Lutron DW-6090A Power Analyser
The Lutron DW-6090A is a cost effective yet economic power analyser, which is suitable for analyzing power factor in many different applications.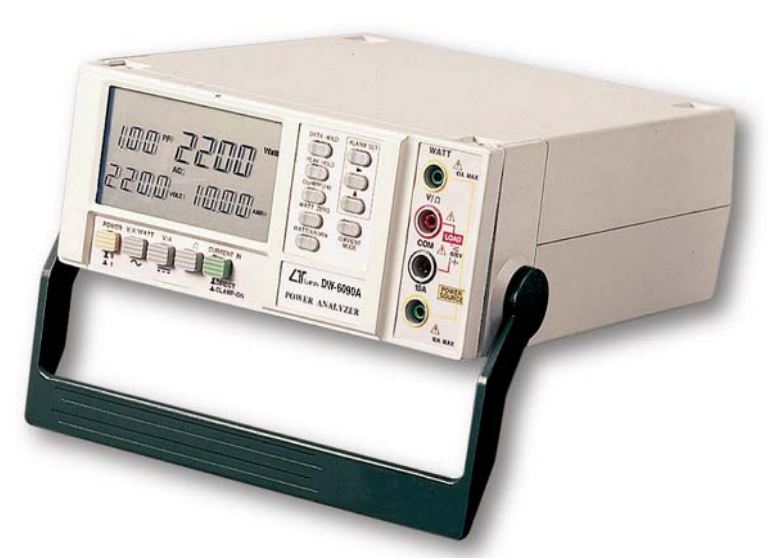 Measurements of up to 6000 Watts can be taken directly. However, using a clamp meter will allow you to make measurements of up to 1MW.
The DW-6090A will give you a true RMS reading for both sine and non-sine waves.
FIRST IMPRESSIONS
The Lutron DW-6090A comes complete with a durable bench type plastic case with a carrying handle for use on site.
The large LCD multi-display unit provides adequate font size making it easy to see the simultaneous display of Volt, Amp, Watt, Power Factor and Hz for each power measurement.  The one thing missing that could be useful is back lighting to see the readout in a dark environment.
The only accessories that come with the instrument are a pair of test leads. So, only direct measurements can be made.  The analyser has facility to plug in a current clamp for inductive current measurement.  These can be bought as a separate item through ADM.
USING THE POWER ANALYSER
The analyser is powered by 6 x AA batteries (not supplied) that are housed behind a panel held by two screws but can also be powered by an AC to DC 9 V adapter, not supplied. The power adapter is available as an optional extra from ADM.
We found the user manual easy to follow, making operation of the analyser relatively simple with logical usage of the buttons to change measurement modes.
The instrument is for single phase and provides readout of Actual Power (KW) and Apparent Power (KVA), from which Reactive Power (KVAR) can be calculated if required. The Lutron DW-6090A also provides read outs of Power Factor, AC Voltage and Current, Watt hour, Frequency and Resistance.
With all this information provided by one unit, you get an exceptionally versatile power analyser.
PERFORMANCE
As this is a bench type analyser, direct power measurement is limited to 6,000 Watt with a maximum 10A current limit. However, with an inductive probe or current transformer measurements of 100kW to 1MW are possible.
The DW-6090A analyser was tested using a resistive and inductive load. 
For both series of measurements, a multi-meter was used to compare the voltage and current values from the analyser, giving a maximum variation between the instruments of +/- 0.5%. 
A load was used for the inductive load experiment that had the manufacturer's load vs. power factor curve. 
Five load measurements were taken and the Power Factor readings from the analyser were compared with the manufacturer's specification with a maximum difference of +/-0.01 (i.e. +/- 1%).
DATA LOGGING
An RS-232 serial port is also provided if data logging is required. However, this feature was not tested.
TYPICAL APPLICATIONS
The Lutron DW-6090A can be used in a wide range of applications, where the monitoring of power factor is critical, such as:
Power factor measurement of power supplies under increasing load​.
Power factor correction​.

By increasing capacitance in high inductive loads​.
By increasing inductance in high capacitive loads​.

Troubleshooting reactive load faults​.
Preventative maintenance​.
Power factor comparison of different product.
CONCLUSION
In summary the Lutron DW-6090A Power Analyser is a very useful power analysing instrument for low power reactive load measurements, unless an inductive probe or current transformer is available for higher power measurements. 
The Lutron DW-6090A power analyser is an essential piece of kit for any electrical or electronic workshop.
The only downsides we could find was the lack of a backlight on the LCD display and the current clamp and power adapter being supplied as optional accessories.
To order online, click on the following link: