The Advantages of Using Mag Flow Meters
Magnetic flow meters (mag flow meters) offer many advantages over other types of flow meter.
 Such as:
Mag Flow Meters hardly impede flow, if at all, and as a result do not cause pressure-drop across the instrument. (This is specific to inline full bore mag flow meters, not the insertion type that are also possible with magnetic flow meter technology). 

Mag Flow Meters have no moving parts, which makes them incredibly durable and less prone to blockage. As a result, suitable media includes slurries, dirty water or water with suspended particles. 
Inline Full Bore Mag Flow Meters 
Mag flow meters use inductive technology that can only work with liquids that are conductive such as a water media. Therefore, the flow of most solvents and oils, whether they are vegetable or petroleum based, cannot be measured with a mag flow meters. 
A mag flow meter requires the pipe to be completely filled in order to measure accurately, this is an important requirement to consider when mounting the unit. 
Georg Fischer mag flow meters have some special features that many other brands do not: 
Georg Fischer mag flow meters are predominantly made from a plastics material such as PVC, which makes the meter resistant to corrosion. The plastic body is not some cheap injection moulded structure, but one that is precision machined from a solid block of PVC. 
The electrode surface inside a Georg Fischer mag flow meter is either Titanium or even Hastelloy, which is also corrosion resistant. 
Compared to other manufacturers, Georg Fischer mag flow meters require a shorter run of straight pipe before or after the flow meter. This can be an advantage when you are limited for space when installing the mag flow meter. 
Georg Fischer mag flow meters are supplied with a calibration certificate ensuring accuracy of ± 1%. 
Georg Fischer mag flow meters have a Bluetooth connection which allows a smart phone app (Apple or Android) to be used to view flow measurements, and to configure & calibrate the flow meter. 
Mag flow meters are available with a local onboard LCD display and can be connected to a panel mount display/controller. There is also a "blind" option with a simple 4-20mA output. 
Due to the wide range of chemicals compatibility and corrosion resistance, Georg Fischer mag flow meters are being successfully used in applications such as: 
Water Treatment Plants  
Sewage Treatment Plants  
Desalination Plants 
Chemical handling and manufacture 
Swimming pools and aquariums 
Mining process such as metal recovery  
The most used Georg Fischer Mag Flow Meters used in Australia are the 2551 insertion type and the 2581 series full bore mag flow meters.
The following video gives you a good overview of the 2581 series mag flow meters:
Insertion Type Mag Flow Meters 
Georg Fischer's insertion type mag flow meters have a few special features too. 
The includes what is termed a 'Hot Top' design insertion flow meter. This has nothing to do with temperature. 
These mag flow meters can be retracted by a long screw thread through the centre of a ball valve. 
Once the sensor has been retracted back past the ball valve, and the ball valve is closed. This allows the mag flow meter to be serviced without stopping the flow of the process fluid.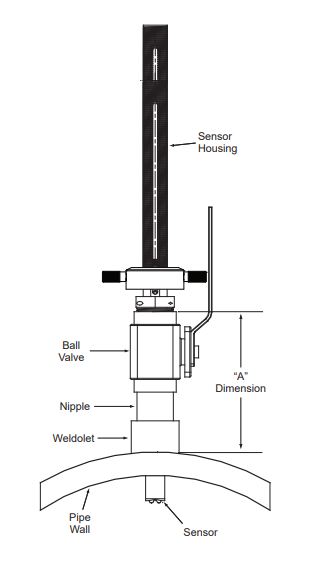 ADM Instrument Engineering has been working with specialised process sensors for over 35 years, and we offer a high level of technical support. Please contact us if you would like assistance in selecting the most appropriate solution for your application. 
IS THIS INFORMATION USEFUL?
If so, why not share it with your peers and colleagues. Simply click on the blue LinkedIn share icon below.