Compound Pressure Transmitters stocked by ADM
Compound Pressure Transmitters are pressure sensors that can measure within a range that includes both positive pressure and negative vacuum (+/-).
ADM Stocks the following Compound Pressure Transmitter ranges in Australia. These have a 4-20mA output and1/4" BSP connection. 
GS4200-00V0AB. Range: -1 to 0 bar (4mA=-1bar)  
GS4200-00V1.5AB. Range: -1 to +1.5bar  
GS4200-00V2.5AB. Range: -1 to +2.5bar   
GS4200-00V6AB. Range: -1 to +6barg  
GS4200-00V9AB. Range: -1 to +9barg  
GS4200-0V12AB. Range: -1 to +12.5barg  
GS4200-0V40AB. Range: -1 to +40barg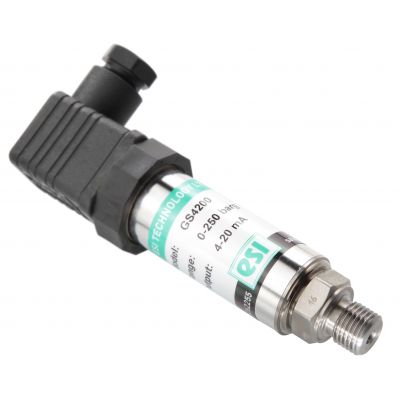 The following models are also available from the factory, usually within 6 weeks. 
GS4200-00V1AB   Range: -1 to +1bar  
GS4200-00V3AB   Range: -1 to +3bar  
GS4200-V001AB   Range: -1 to 0 bar (-1=20mA, 0bar = 4mA) 4-20mA 2 wire
Logging and Recording Negative Pressure 
The ESI GD4200-USB02.5AB USB pressure connects to your PC for easy logging and recording of pressure readings. It has a measurement range of -1 to 2.5bar, allowing it to also read negative pressures 
How Compound Pressure Transmitters Work 
The reference point of a compound pressure transmitter is set to ambient pressure. Its flexible diaphragm allows a linear output signal from vacuum (-1 bar), through zero pressure, to the full scale of positive pressure.  
The measurement cell contains a hole that allows inherent compensation for atmospheric pressure changes. 
 The effectiveness for measuring both vacuum and gauge pressure is limited to lower pressure ranges. Typically, they are used for pressure measurements from +1 to +40 bar or less.  
Typical Applications for Compound Pressure Transmitters 
Compound pressure transmitters are used in systems where slight pressure differences between overpressure and a vacuum must be measured reliably.  
For example, compressors (vapor recovery + gas compression), pumps (suction + discharge), leak tests of pipelines, test chambers in laboratories and general low-pressure applications. 
Another application for compound pressure transducers is building air climate controls and refrigeration equipment (HVAC/R).  
During normal operation, the transducer measures the positive pressure in the system. In the event of pending maintenance, it measures the negative pressure caused by suction when the system is evacuated. Negative pressure could make the system difficult to work on, or it could even pose a danger to operators.  
For further information, please do not hesitate to contact ADM Instrument Engineering.