Low Cost Voltage and Current Calibrator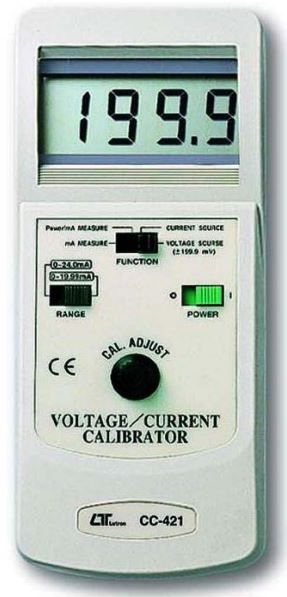 The Lutron CC-421 is a great low cost voltage and current calibrator for service or installation engineers, who need to check industrial sensors and transmitters.
At under $360 (ex GST), you are not going to weep if it gets dropped into a sewage tank.
Featuring a clear 3 LCD display, the Lutron CC-421 is a fairly straight forward and simple device to use.
It doesn't have some of the advanced features seen on more expensive devices, but then again if you are unlikely to use them, why pay for them?
The Lutron CC-421 has 4 user selectable operating functions:
Current measurement in a loop, 4-20mA.
Loop power a sensor and measure its output, 4-20mA.
Current source, output 4-20mA.
DC mV source to max 200mV.
The display has two ranges: -0 - 19.99 mA (accuracy ±0.25 % F.S. + 1 d). -0 - 24.0 mA (accuracy ±0.5 % F.S. + 1 d).
Voltage measuring range is -199.9mV ~ +199.9mV (±0.25% F.S + 1 d)
Can't find what you need?
Call ADM on 1300 236 467
A member of our expert team will gladly help you find the right solution for your project or application.