Compact Compression Load Cells, Low Profile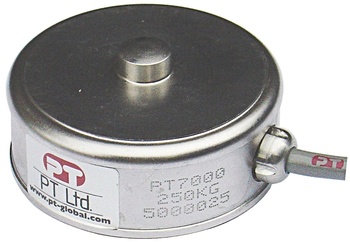 The PT7000 series load cells are constructed from fully welded stainless steel and are sealed to IP68, making them suitable for non-austic wash down applications.
These are a button type load cell that is ideal for tank and hopper weighing applications.
Measuremeant capacities available: 100Kgf, 250Kgf, 500Kgf, 1000Kgf, 2500Kgf, 5000Kgf, 10,000Kgf, 25,000Kgf and 50,000Kgf
Hysteresis is less than 0.05% F.S.
Recommended excitation voltage is 5~15V, maximum permissible is 20V.
Can't find what you need?
Call ADM on 1300 236 467
A member of our expert team will gladly help you find the right solution for your project or application.