Pressure Transducers for Hydrogen Applications
In May 2021, the Australian Federal Government announced that it would be supporting world-leading clean energy projects, by backing three large-scale hydrogen plants in Western Australia and Victoria, which will be among the biggest in the world.
One of the projects will see renewable hydrogen used to produce ammonia for export in the Pilbara, whereas the other two will use renewable energy to produce hydrogen for gas blending into the existing natural gas pipelines. The natural gas network will be key to delivering hydrogen directly into the homes of millions of Australians in the future*.  
The Queensland government has since also announced that it will be supporting four Hydrogen industry development projects.  
Hydrogen's use is set to grow over the coming years, and it is hoped that it can replace fossil fuels, especially in industrial and heavy-duty applications, where battery technologies fall far short of being able to supply adequate power. For example, freight locomotives.  
Hydrogen is attractive because it offers a cleaner, secure, and more affordable source of energy with the potential to drastically reduce and tackle CO2 emission levels. 
One key requirement of controlling the processes that produce hydrogen is the monitoring of pressure.  
Most pressure transmitters are constructed from a grade of 316 stainless steel. This is not an ideal material due to hydrogen embrittlement, which reduces elasticity, a key requirement for a pressure diaphragm. 
ESI's GS4200 series transducers use a special Titanium alloy, which has passed hydrogen compatibility testing based on ISO 1114-2:2017, according to the European Regulations EC 79/2009 and EU 406/2010 and are available with certification for use in Hydrogen applications.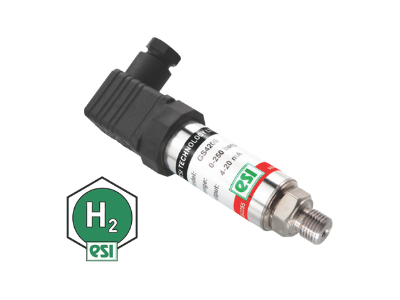 ESI's unique Silicon-on-Sapphire sensor technology gives outstanding performance and excellent stability over a wide temperature range. As well as exhibiting virtually no hysteresis and excellent long-term stability, the sensor can endure higher over- pressures and provides superb corrosion resistance. 
DNV GL certification is also available, as is an IECEx approved version of these transducers. 
For further information please contact ADM Instrument Engineering. 
IS THIS INFORMATION USEFUL?
If so, why not share it with your peers and colleagues. Simply click on the blue LinkedIn share icon below.