Product Review - Lutron DW-6093 Power Analyser
The Lutron DW-6093 is a versatile tool, which can be used for a multitude of single phase and 3 phase test and measurement tasks.
The DW-6093 can conduct analysis tasks on 1 phase 2 wire, 1phase 3 wire, 3 phase 3 wire and 3 phase 4 wire installations. Voltage and current readings are given in true RMS values.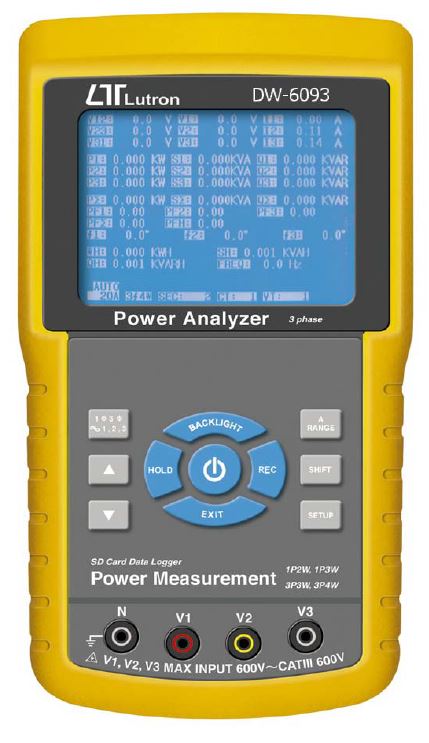 True power can be measured in KW, MW and GW; apparent power in KVA, MVA and GVA; reactive power in KVAR, MAR and GVAR; and watt hour in WH, SH, QH and PFH. You also can measure power factor and phase angle. The voltage measurement range is 10-600 ACV and the ACV input impedance is rated at 10 mega ohms.
Data is clearly displayed on the backlit 3.2"x2.4" LCD display, which boasts a resolution of 320x240 pixels.
The Lutron DW-6093 also has built in data recorder with SD memory card, as well as clock and calendar. You can set the sampling time from between 2 and 7200 seconds. Once you have completed the analysis, simply remove the SD card from the DW-6093 and slot it into your laptop, or PC. You can then download all of the measured values, together with the ACV time information (year/month/date/hour/minute/second) directly into an Excel spreadsheet for analysis.

For added flexibility the Lutron-DW-6093 can be connected to your laptop or PC with an optional USB cable. Together with the optional SW-U811 data acquisition software this gives you similar functionality to a data logging system.
The DW-6093 is supplied complete with a set of test leads, alligator clips, 3 clamp probes, SD card, power adapter and carrying bag.
The Lutron DW-6093 is available for immediate despatch from the ADM warehouse.
IS THIS INFORMATION USEFUL?
If so, why not share it with your peers and colleagues. Simply click on the blue LinkedIn share icon below.