USB Interface, High Pressure Range, Fast Sampling Rate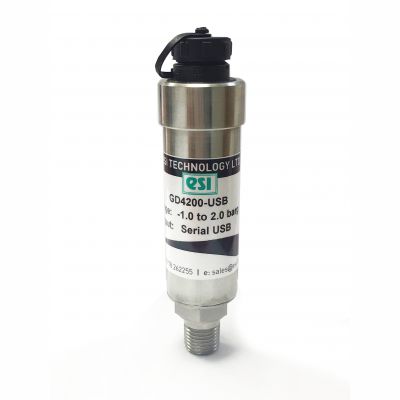 The GD4200-USB© Digital Pressure Sensor has been designed to measure, analyse and record pressure directly on your laptop, or PC without the need for costly I/O interface boards. You can measure up to 16 pressure inputs simultaneously and easily create customised test certificates. The transducer is powered by the computer's USB port, data is then presented on the PC via the ESI-USB© configurable Windows Interface software. The sample rate enables dynamic pressures to be measured with up to 21 bit resolution at user selectable speeds up to 1,000 Hz. For real-time analysis, data transferred to the PC is achieved without loss of accuracy or bandwidth. ESI's Silicon-on-Sapphire sensor technology provides outstanding performance and gives excellent stability over a wide temperature range. Excellent measurement accuracy provides high resolution with a precision greater than 1 in 10,000. Nine pressure ranges have been carefully selected to enable the user to cover any pressure that the application requires, from vacuum up to 5,000 bar, via the use of the ESI-USB© digitally self scaling software.
Can't find what you need?
Call ADM on 1300 236 467
A member of our expert team will gladly help you find the right solution for your project or application.