Harting Han Connector Overview
INTRODUCING HARTING HAN CONNECTORS 
Harting's Han series of industrial modular connectors is very broad. 
If you are unfamiliar with the range, it can be a daunting task to navigate the Harting website looking for the solution that best suits your application.  
In this blog post we give you an overview of the range, the components that you will need to put together a complete connector, and some examples of applications that these connectors can be used in.  
SELECTING A HARTING HAN CONNECTOR 
Even though ADM has an online shop, our expert team are on hand to help you select the most suitable Harting Han connector for your application.  
We don't just look at what is technically suitable, but also what is readily available from stock. After all, you don't want to be managing long lead times unnecessarily. We will advise you of the Harting part numbers you need to order, so that you can maintain your bill of materials.  
THE RANGE OF HARTING HAN CONNECTORS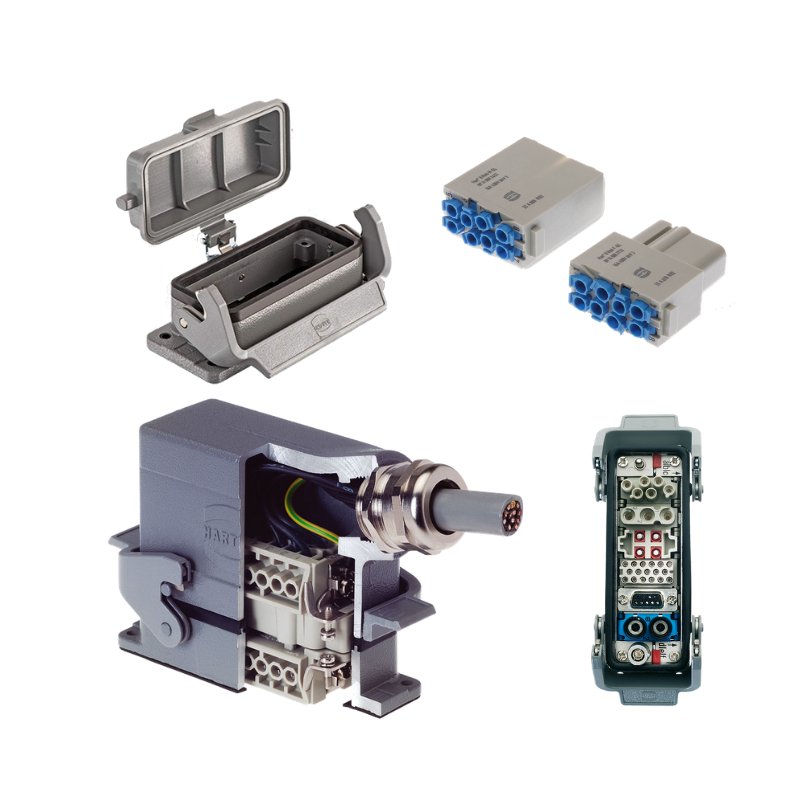 HAN-MODULAR 
This is considered to be the "market standard" for industrial modular connectors. 
They offer quick and easy handling, robustness, and flexibility in use. They have a long-life cycle and provide tool-free assembly of your product. 
HAN-ECO 
These high-performance plastic connectors are the perfect solution for applications that are either cost sensitive, or where a lightweight modular connector is required. In fact, they only weigh about half as much as a connector made from die-cast aluminium. 
Han-Eco connectors are compatible with Han metal connectors and they can be rear-mounted, saving time and money by optimising your assembly process. 
Han-Eco connectors are constructed from a high-performance plastic that is as robust as all other Han-Eco components. You don't lose any of the advantages that many have come to associate with Harting Han connectors. 
Harting's Han plastic connectors are not only easy to install, they are also resistant to corrosion and offer flexible assembly options. They are fire resistant to UL94 V0 – so they can be used in railway applications. 
HAN-SMART 
The Han-Smart connectors deliver extra functionality, such as machinery identification, energy measurement and surge protection. 
These are critical for IoT and smart networking applications.  

HAN F&B 
As their name suggests, the Han Food & Beverage connectors have been specifically designed for use in the food industry. They have smooth surfaces that make it harder for bacteria to accumulate. The hoods, housings and seals are robust and protect the internal contacts against high pressure sprays and aggressive cleaning agents when closed (certified by Ecolab), and have FDA 21 approvals.  
HAN-MODULAR FLEXBOX 
The Han-Modular Flexbox makes it possible to sub-divide energy chains into flexibly manageable and easily replaceable segments. This makes the replacement of an energy chain very simple.  
The connector can be easily adapted to the geometry of the energy chain, so they can be mounted in tight spaces. 
 
The modular housing replaces multiple individual connections with a compact single plug-in and disconnection point. This reduces installation times and costs, plus takes up less real estate. 
Fastening elements can be used to join the housings together in different configurations, giving a high degree of flexibility when it comes to the height and width of the interface. 
HAN-YELLOCK 
Han-Yellock offers a high degree of safety and reliability. They have a locking device, which prevents the connection from being unintentionally disconnected.  
The below video shows some of the additional features available with Han-Yellock. 
HARTING HAN CONNECTOR COMPONENTS 
A compete industrial connector consists of the following individual components. We can help you identify the most suitable solution. We have made some notes on the options available and questions we may ask you. 
Cable Entry Protection 

Universal cable glands. 
Special cable clamps available with strain relief. 
Extensive range of accessories. 

Hoods 

Low or high profile? 
Top or side entry? 
1 or 2 locking levers? 

Male Insert 

Screw terminal? 
Crimp terminal? (Contacts will need to be ordered separately) 
Cage-clamp terminal? 

Female Insert 

Screw terminal? 
Crimp terminal? (Contacts will need to be ordered separately) 
Cage-clamp terminal? 

Housing 

Bulkhead mounting with or without metal cover. 
Surface mount low or high construction. 
Hood (cable to cable) low or high construction. 
1 or 2 locking levers? 
1 or 2 cable entries? 

Accessories 

Protective covers. 
Code and guide pins for coding. 
Male and female inserts can be single inserts or a modular system.   
Standard Inserts  

How many pins required? 
How much current required? 
What type of termination? 

Modular/Hybrid Inserts (Frames will also be required) 

Various modules available for transfer of power, signal, data and compressed air, which can be assembled into one hood/housing. 
Power, data and/or signals can be transferred in a single insulation body. 
APPLICATIONS FOR HARTING HAN CONNECTORS 
Harting Han connectors are used all around the world, including here in Australia. You will find them in a wide range of applications.  
The following are just some examples that immediately spring to mind, this is far from an exhaustive list.  
TRANSPORTATION 
There are many machine builders in Australia, producing equipment that must be resistant to shock and vibration. The Han series of connectors include locking mechanisms for a secure connection that can't be accidentally dislodged.  
The Han-Eco connectors can also be used in railway applications.  
MACHINERY & ROBOTICS 
Harting Han connectors are used on static machines such as CNC controlled metalworking and plastics machinery, and robotics.  
They allow you to replace multiple signal, data, power, and even pneumatic connections with one easy to install connector.  
POWER GENERATION, DISTRIBUTION & STORAGE 
Harting's Han connectors are perfect for use in many energy applications. For example, you will find them on many wind farms and in distribution and storage systems. 
FURTHER INFORMATION ON HARTING HAN CONNECTORS 
If you have any questions on the range of Harting Han connectors, or would like to request further information, then please contact ADM. 
IS THIS INFORMATION USEFUL?
If so, why not share it with your peers and colleagues. Simply click on the blue LinkedIn share icon below.